We've all seen or heard of stories where expecting fur-parents have had to give up their furkids for adoption to prepare for the arrival of their baby.
As fur-parents ourselves, we understand that there may be some concerns or issues that lead up to said heartbreaking decisions. It may be due to the safety and health of the newborn or the concern of neglecting your furkid due to being constantly occupied with the baby and other commitments. Nevertheless, these could be legitimate concerns especially when they're coming from a place of wanting to be responsible for all the lives in your care.
But we believe that it's not absolutely necessary to give away your pets when you've gotten a newborn in your hands!
Hence we had to get some tips and advice from Sarah Voon who's a busy journalist, a wife plus a mom to an adorable 1-year-old boy and 2 furkids.
A Little Intro About The Fam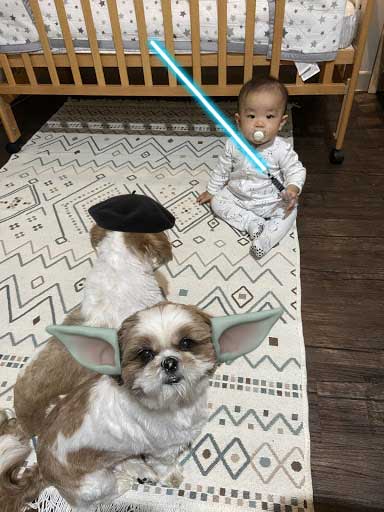 Meet Jedi, the adorable baby boy who just turned 1 on October 9th! He's the newest edition to the pack and brother to Shih Tzus, Yoda (who turns 4 on November 18th) and Picasso (who turned 2 on July 1st). 
Yes, the names Yoda and Jedi were given by Sarah and her husband, Tim because they're both Star Wars fans.
Before The First Jedi
Unlike what Disney movies and cartoons depict, the arrival of a baby doesn't happen overnight after a wish made by parents. But rather it occurs over the period of 9 months which could be a time of mixed feelings and arduous prep.
Sarah shared that ever since she found out that she was pregnant, she had been talking to Yoda and Picasso about their new sibling on the way.
"I was concerned he would get jealous that the attention was shifted on the baby. But we talked to him throughout the entire pregnancy and we continued to talk to him and reassure him even after the baby was born.
"Picasso, being a second child already, he wasn't too bothered. He is used to giving way to Yoda.
"Yoda is very spoiled, having been an only child for 2 years. So he needed more coaxing and counselling. I think he knew I was pregnant as I'm sure I smelled very different to him. But I know he loves the family so much and he's such a gentle soul at the end of the day that I had no worries introducing them at all," shared Sarah.
Introducing Jedi to Yoda and Picasso
When Jedi was first brought home, "Yoda was very curious. (So) we let him and Picasso sniff the car seat that the baby was in."
The trio were introduced to each other on neutral ground aka her mom's house during her confinement. Sarah shared that she had read it's generally better to do the new member introduction on neutral ground rather than in Yoda's home territory (their apartment).
Which makes total sense as animals would tend to be more guarded and territorial when an unknown stranger enters their territory. Any unfamiliar smells, sounds or actions could potentially cause them to get aggressive.
Hence, Yoda had gotten used to the smell and sounds of a crying baby by the time they got home.
However, that's where the real encounter begins.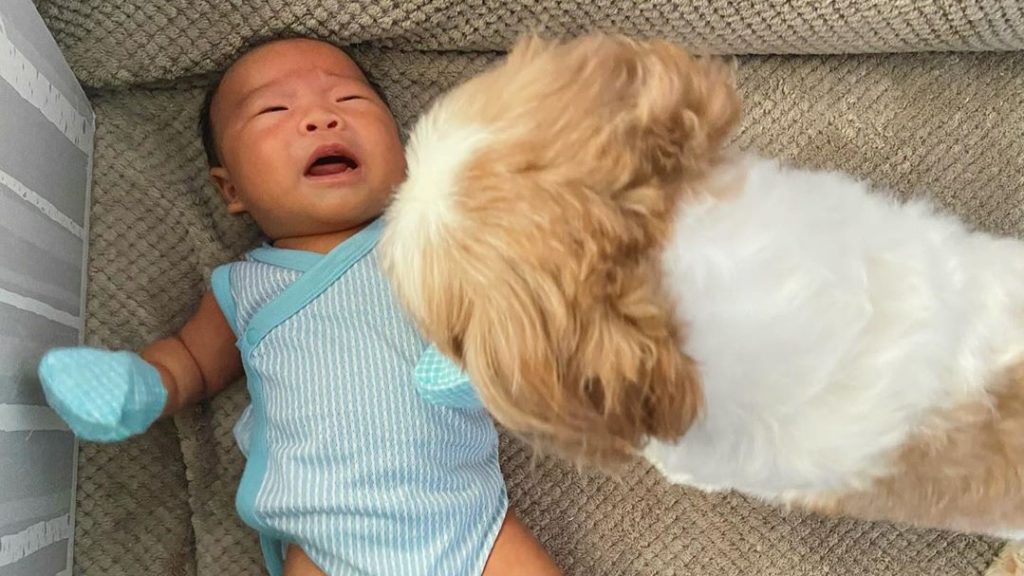 "Jedi's first real encounter with Yoda was after the confinement period, once we got home to our own apartment. I let Jedi lie down on the sofa and Yoda went up to sniff him. Jedi was only about 2 months then, so he didn't know much. He just cried and we didn't want to pressure him further so we asked Yoda to get off the couch.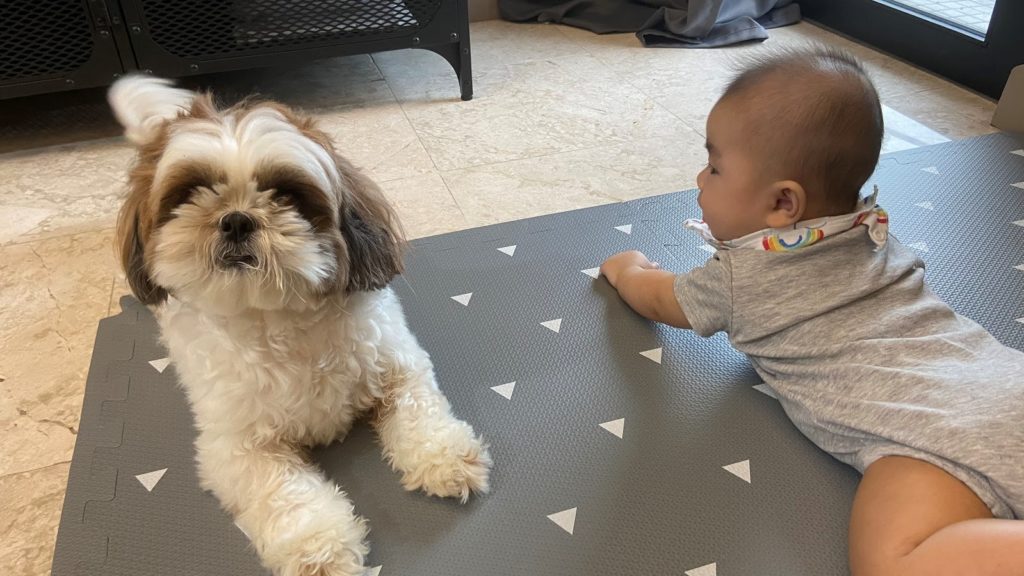 We persisted and let them interact more on the playmat on the floor as Jedi got older and could lift his head, sit up and crawl.
"Though our focus shifted to the baby (naturally) after he was born, Yoda didn't show any signs of jealousy or aggression. So I think he really understood what we were saying. Now that Jedi is bigger, we have more time to spend with Yoda again and better still, Yoda has a new companion to play with. We can see now that Yoda tends to gravitate towards Jedi more often for playtime rather than us!"
Adapting To The Change
"Yes, the first 2 months were an absolute mess."
Whether you've had your own baby or not, it's no secret that they're a handful as they're tiny fragile beings that basically need help with everything. Plus when you add two doggos into the mix, Sarah shared that "it was pretty challenging to juggle 2 dogs and a baby but it's not totally impossible."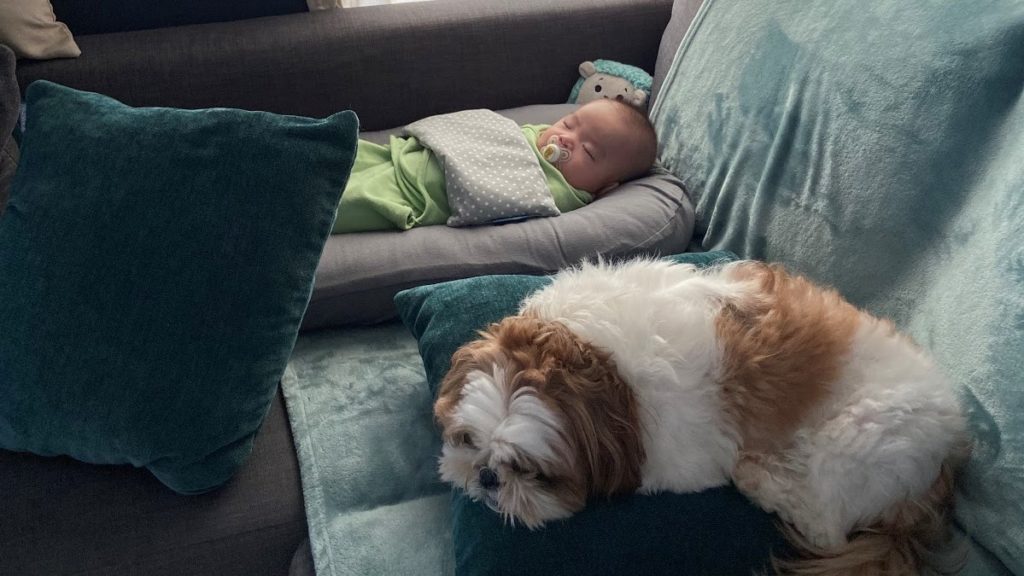 For the first two months, Sarah shared that they probably experienced some delays in feeding Yoda and Picasso their Heartgard medication, putting their Frontline on, grooming their shaggy coats and getting Yoda checked for some lumps on his back (which thankfully were just nonmalignant sebum cysts).
Sarah also shared that Yoda and Picasso are gentle and incredibly low maintenance pets that "just need to be fed on time, cleaned and given adequate attention". Having each other to stay entertained with also made Yoda and Picasso pretty self-sufficient in the fun and play requirements.
"The newborn, on the other hand, will require your 100% focus and when you're not caring for the baby, chances are you will be resting. So don't feel guilty if you can't give your furkids the same attention in those first 2-3 months as you did before. They are incredibly forgiving and understanding creatures."
Two months in, they've gotten their groove back and the dogs are getting groomed once every two weeks.
Now that Jedi's a few months older, the three boys have learnt to play with and keep each other entertained too! According to Sarah, Jedi has even learnt how to say "dog" as he knows it's the word to call his brothers and his whole face lights up when he sees Yoda or Picasso.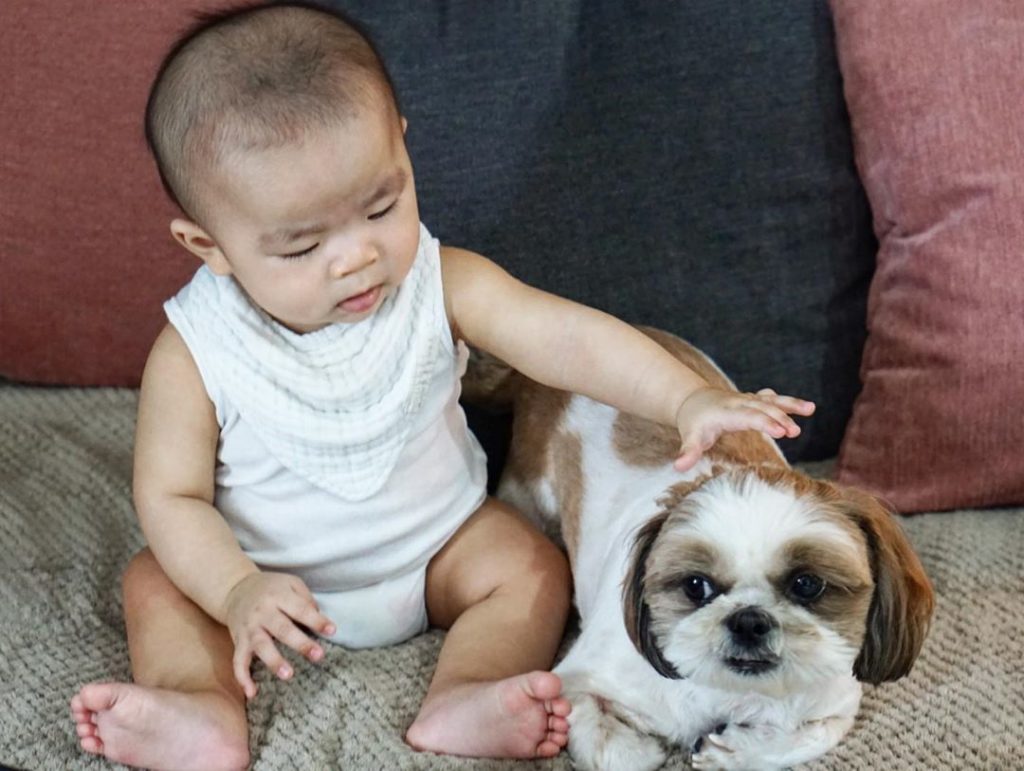 "Whenever I don't open the playpen door for Yoda to go in to play with Jedi, he will just stalk Jedi from outside and they will still play with each other through the gate. I will suddenly hear Jedi laughing and I know that he's playing with Yoda.
"They absolutely adore each other. Jedi is still learning how to grasp with his fingers, so he tends to be a little rough with Yoda sometimes. But Yoda just lets him. Yoda will always try and play with Jedi by grabbing his toys and they will have a good go at it, playing with each other."
Sarah's Final Tips and Advice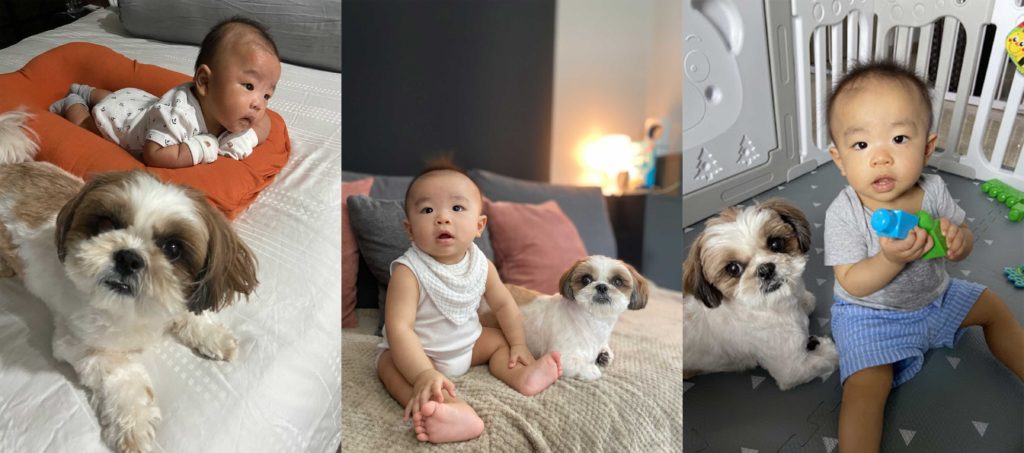 "I believe it's important to continue treating your pets the same way as before. It's good to communicate to them what is going on if you're introducing a new member of the family to them. Those cases in which the family pet mauls a baby to death, those are outliers.
"Here are things I believe you can't go wrong with:
You should NEVER leave a baby alone no matter the circumstance. Not even for a second. Doesn't matter if you have a pet or not. It is dangerous either way if a baby is left alone.

Don't start treating your pet badly or abusing them once a baby comes along as that can become a trigger for aggression. It has nothing to do with the baby, but how you treat them overall."
n a nutshell, Sarah knew how gentle Yoda and Picasso are and played a proactive role to introduce her kids to each other while giving them the needed space.
TLDR, here's how she ensured that Jedi, Yoda and Picasso met and became brothers peacefully:
Informing and preparing her furkids for their new sibling

Letting her furkids get used to Jedi's presence in their own way

Letting Jedi understand, familiarise and get use to his fur-brothers

Letting the three boys play and interact with each other under supervision

Give everyone with equal attention, love and respect so they don't feel the need to act out for attention
However, if you do feel like you would be unable to care for your furkids and newborn baby, there is absolutely no shame in reaching out for an additional pair of hands for help. After all, keeping the best interest of your furkids in mind instead of neglecting them is the responsible thing to do.
-//-
And IF you should feel like you need additional help in preparing human-grade meals for your furkids that are nutritious and freshly cooked, that's what we're here for! These meals can be sent to you on a schedule so that you get a consistent refill of yummy goodness for your furkids. Feel free to
reach out to us
for a free sample and get to know our available meal plans.